About
Hi everyone and thanks for visiting my blog.
After many people asked me why I don't have a blog, why I don't write more about the situation from Romania, and at the recommendation of one of my professors, I finally opened it.

Who am I?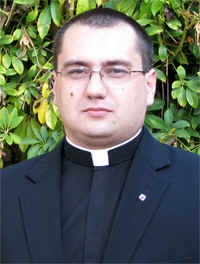 I am  Father Chris Terhes, an Eastern Rite Catholic Priest, originally from Romania and I currently reside in Laguna Hills, California.
I am the administrator of "St. John the Baptist" Romanian Catholic Mission of Orange County, CA, which I've opened it in November 2009.
Also, I am the President of Romanian Greek-Catholic Association, a 501(c)3 non-profit charitable organization that advocates for the end discrimination of the Greek-Catholic minority in Romania and the full restitution of the religious properties confiscated by the communist regime in Romania.
What are you going to read on my blog?
Most of the time I will write about the situation of the Greek-Catholic community in Romania which is facing a process of cultural and religious cleansing. This process is ranging from severe violation of the human rights concerning the Greek-Catholics to the destruction or demolition of the Greek-Catholic heritage in Romania.
I might also post articles or comments about subjects that I think are important.
If you have any suggestions about any topics, please feel free to email me at cterhes@gmail.com.
Facebook: http://www.facebook.com/FrChrisTerhes
Twitter: http://twitter.com/FrChrisTerhes
LinkedIn: http://www.linkedin.com/in/frchristerhes
Thanks and God bless you!